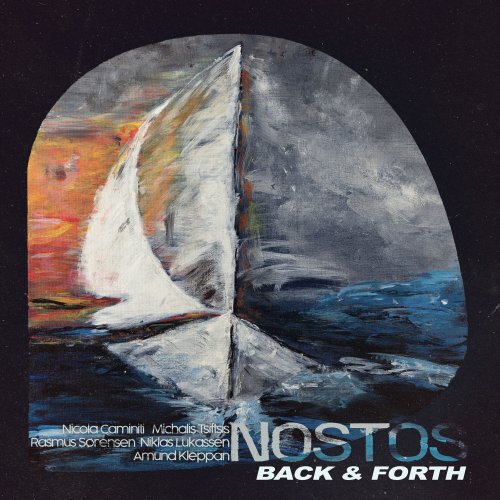 2023
NOSTOS
Nicola Caminiti (IT) saxophone
Michalis Tsiftsis (GR) guitar
Rasmus Sorensen (DK) piano
Niklas Lukassen (DE) double bass
Amund Kleppan (NO) drums
Artist: Nostos
Title: Back and Forth
Year Of Release: 2023
Label: u n i t
The band name Nostos comes from on ancient greek work that is a poetic expression for a longing to find home. Like Odysseus, who embarked on an adventurous journey overseas to return to his island, the quintet manouvers itself through manifold musical challenges in search of artistic synergy. The recent years presented themselves like an Odyssee to the band members. Nicola Caminiti (IT), Michalis Tsiftsis (GR), Rasmus Sorensen (DK), Niklas Lukassen (GER) & Amund Kleppan (NO) are among the most prolific upcoming artists of the their respective countries. They bonded during their shared time of living in New York. Through the pandemic they each were forced to make momentous life decisions surrounding questions of home and belonging. As a consequence they are currently living scattered across Europe and the Big Apple. Despite that, the musicians insisted on expanding their musical collaboration and at last gathered together to record their album "Back and Forth".
Nostos debut release captures their first meeting since the pandemic. It contains self pinned originals by all members.
The universally felt sensation of their reunion can best be described as "Nostos", a longed for homecoming.
Copyright © 2023 Nicola Caminiti. All rights reserved.Website Hosting:
gruppoAMT
error:
Content is protected !!!!!!! (c) Nicola Caminiti